Broad-spectrum Organic Pesticide, Insecticide, Miticide
Non-Toxic, stable, 200X concentrated and ready-to-use emulsion.
Made with organic Neem oil certified by ECOCERT.
Against insects, diseases, fungi, virus, bacteria.
For: Agriculture, permaculture, garden and all types of plantations: Rice, vegetables, fruits, coffee, nuts, flowers, etc.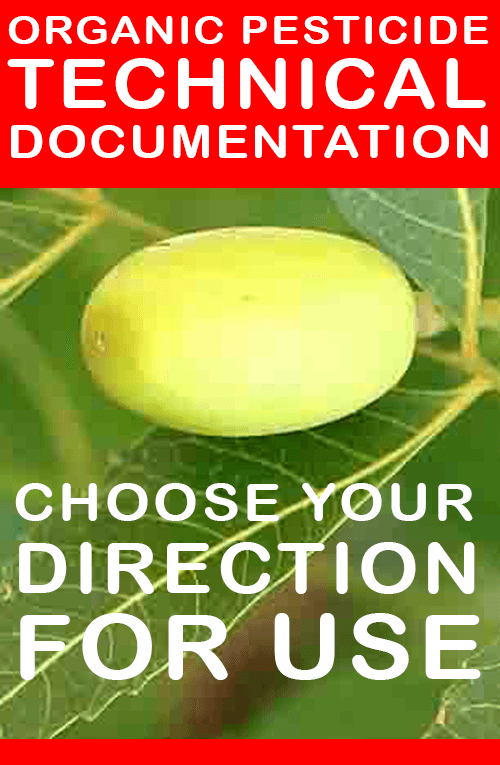 Why Pesthama is an efficient organic pesticide?
Neem oil is scientifically documented for powerful insecticide properties.
Rain resistant: Pesthama contains a plant-based nano-concentrate that enables an effective penetration in leaves, roots and soil.
Effective in Integrated Pest Management (IPM) and Insect Resistance Management (IRM).
Made with 87% of a Pure Neem seed oil which is:

Certified organic by ECOCERT, attestation ref. No. 717N1900n2e.
Approved by ECOCERT for use in organic agriculture:

USA: National Organic Program standard
European Community Regulations No. 834/2007 & 889/2008.

Cold Pressed extracted and double filtered.
100% pure: No solvents or chemicals (free from Aflatoxin B1, G1, B2, G2)

Active compounds: Triterpenoids: Azadirachtin A & B, Nimbin, Nimbidin, Salannin, Salannol, Triglycerides, Sterols, Saponins.

How does Pesthama work?
As a repellent
Neem oil-based pesticide repels numerous species of pests: Aphids, Armyworms, Beetles, Bollworms, Borers, Caterpillars, Control Spider Mites Cutworms, Flies, Fruit-worm, Leaf folders, Leaf miners, Leafhoppers, Lice, Maggots, Mealy bugs, Mites, Nematodes, Scale, Termites, Ticks, Thrips, White flies, etc.
As a pest and disease regulator
Neem oil helps to get rid of pests by various means:
Antifeedant, feeding deterrent.
Inhibits insect growth.
Reproduction inhibitor & anti-fertility: disrupts reproduction, sterilizes insect reproductive organs, reduces egg laying capacity & hatchability; Oviposition Deterrent.
Crop protection by regulating the development of disease (rots, mildews, rusts, blights, botrytis, scab, leaf spots, etc.) and fungi.
As a plant booster
Neem Oil offers as well fertiliser properties.

Why choose Pesthama?
Pesthama is safe
You can stay at home safely during and after the treatment.
Protect the health of professionals who use it in the long run.
100% BIO-DEGRADABLE. Doesn't last in the food chain.
Compatible with permaculture, organic farming, green house and hydroponics.
Free technical advice for industries and professionals.
Pesthama is easy to handle and to apply
Professionals and individuals appreciate the convenience of using an organic treatment that doesn't need special equipments.
Moreover Pesthama is a super concentrated formula that is easy to transport and to apply. Just mix Pesthama with clean, non-chlorinated water and your emulsion is ready to use.
Pesthama is cost-effective
Pesthama high concentration enables higher surface of treatment penetration and durability.
Pesthama is stable for up to 2 years when it is kept in recommended storage conditions.