Neem oil is a blessed gift of nature
NEEM OIL is considered as a sacred gift from nature and has been used for health, wellbeing, organic agriculture and many other purposes for over 4,000 years particularly in Ayurveda, the traditional medicine system in India. In Sanskrit, the word for Neem is "Nimba" means "good health" or also called "one tree pharmacy".
Discover our high standard quality Neem oil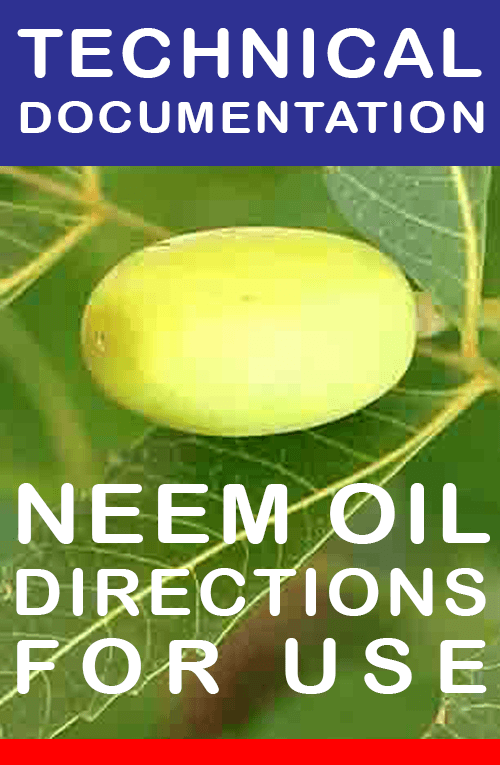 Neem oil is a ready-to-use product or a base for preparations such as:
Cosmetics, health, toiletries such as shampoo, toothpaste and well-being products.
Biopesticide and natural insecticide.
Termite treatment, pest control and termite control.
Veterinary and pet care.

Why choose our pure Neem oil?
Cosmetic grade.
100% Environment-friendly: 100% biodegradable. Residue free. Safe for humans.
Easy to handle and to apply.
For professional and domestic use.
What are Neem oil properties?
According to Ayurveda and some modern scientific sources, Neem Oil could offer the following healing properties:
Antiseptic
Antimicrobial
Antiviral
Antifungal
Antihistamine
Anti-inflammatory
Anti cancer
Antihyperglycemic
Analgesic
Abortifacient
Anthelmintic
Antioxidant
Antibacterial
Antipruritics
De-toxicant
Anti-malarial
Diuretic
Emmenagogue
Contraceptive
Spermicidal

What are Neem oil benefits?
Neem oil for health
Skin problems: eczema, acne, psoriasis, itching, urticarial….
Lungs, sinus: congestion/infection
Blood, Liver (Cleanses and strengthens)
Eye (inflammation or heat)
Candida (Reduces overgrowth)
Urine (tract infections)
Pancreas (high blood sugar)
Wound (infection)
Menorrhagia (excessive menstrual bleeding)
Diarrhea (infection)
Arthritis (inflammatory type)
Diabetes
Piles
Fever
Malaria
Gingivitis
Intestinal worms
Birth control
Neem oil for skin care
Improves general skin health, moisture and immunity.
Contains antioxidants that help protect skin from aging.
Rejuvenates skin cells and restore elasticity.
Maintains a glowing skin and elasticity while combating infections.
Prevents scars when wounded.
Reduces acne, treats impurities, tightens facial skin pores, prevents pimples and skin blemishes.
Note: Do not expose yourself to direct sunlight just after applying pure neem oil on your skin.
For a daily care you should dilute the neem oil. for example with other oil(s) such as Coconut, olive or Sesame.
A DIY easy formula:
50 ml of pure Neem oil
200 ml of coconut oil
5 drops of pure lemongrass essential oil (to mask the strong smell of Neem Oil)
Neem oil for face care
Applying Neem oil on face helps get rid of impurities and tightens skin pores, making the skin look healthy.
Neem oil for hair care
Strengthens hair quality and promotes hair growth.
Nourishes and moisturizes dry hair.
Can treat dandruff, itchy scalp, head lice, split ends, frizzy hair.
Neem oil for hand wash
Add a couple of drops to liquid hand soap for antibacterial properties.

Neem oil as mosquito repellent
A DIY easy formula:
50 ml of pure Neem oil.
200 ml of coconut oil.
5 drops of citronella essential oil.
Apply from time to time in presence of mosquitos.
Neem oil for oral hygiene, mouthwash, toothpaste
A DIY easy formula:
Dilute with coconut Oil (30%/70%).
Gargle for a couple of minutes and spit out.
Or apply one drop directly on teeth or gums and brush.
Neem oil for pet care
Efficient and safe for ticks, fleas, mange mites and other pests.
Add 5 to 20% of Neem oil to your pet shampoo or rub a drop of pure Neem oil on wounds, ticks or sick skin.
Clean your pet environment by simply spraying diluted of Neem Oil around his favorite spots (antiseptic). You can repeat every week.
Neem oil for house cleaning
Add to carpets shampoos, spray on mattresses to kill dust mites, bed bugs, bacteria and parasites.

References & Resources